The Results
Today, Paymark's 136 staff have confidence in the system's fairness, robustness and consistency. People engage in regular conversations with managers and understand how their work fits into where Paymark is heading.
Employees enter data into the system as regularly as they like, building up a thorough, up-to-date record of activities and achievements for discussion at their next review, and making it easy for managers to keep tabs on people and performance.
New recruits soon realise how simple Mariner7 is to use and quickly understand its benefits. The system requires managers to set objectives with new staff within the first few months of employment. Heidi Parlane says this open communication early on in a person's job could
languish if Mariner7 was not in place.
Key to the success of Mariner7 and the other HR tools introduced in 2007 has been the full support of Paymark's Chief Executive Officer Simon Tong and the exceptional buy-in from managers. "Simon Tong's support throughout has been invaluable, and our managers are really involved. We have been patient to allow time for managers to understand how the system best works for them. Now, they and other employees are much more engaged and, because it's a participative process, many have a feeling of 'ownership'."
In September 2007 – just six months after Mariner7's introduction – the JRA Best Places to Work Survey found that since the previous Paymark survey:
Six per cent more staff believed that "Coaching helps me to lift my performance"
Five per cent more believed "I know how my work contributes to the success of this organisation", and
Seven per cent more staff believed "My performance is fairly assessed"
Since 2007, Paymark has had ongoing discussions with

managers about the system and, with Mariner7's help,

has made numerous changes and adjustments.

For example, the rating scale that determines employees' bonuses has been upgraded to provide greater transparency. Having transparency around the bonus framework was critical and Paymark has found it "incredibly useful" to be able to extract information from the Mariner7 system to ensure that.

Another key improvement was changing the language used for self-rating. Today, this better reflects people's perceptions of their objectives and competencies because it uses less judgemental language which, in turn, encourages people to feel more comfortable about
self-rating. People rate themselves more accurately and, as a result, are able to have more honest, meaningful discussions with their managers.

Heidi Parlane says: "When we first stepped into the system, most people in the company were rated 'very good', and nobody was rated 'exceptional' or needing improvement. With our revised language for ratings, the majority of people are now rated 'good'. There's a fair cluster rated 'very good' and we now have a small group of 'exceptionals'.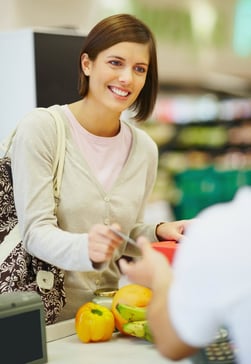 "One of the things I really enjoy about working with Mariner7 is that they are really receptive to feedback and making changes that take away any niggles. Some are just small but they make a difference for some of our people. They also share enhancements made by themselves or other clients."
A recent example is an enhancement to the range of web browsers Mariner7 is compatible with.
Another enhancement to the Paymark system has been a feature allowing employees to load their objectives under each of the company's strategies – including incorporating the icons Paymark uses internally. The benefits are twofold. Firstly, staff – all of whom participate in setting their own objectives – can better understand Paymark's 'big rocks' and their own connections to them, and, secondly, each time an employee loads information, the strategy's message is reinforced.
The addition of templates with a complete set of KPIs for call centre staff has brought further benefits, making it simpler and faster for people to develop their individual KPIs.